Palais Stoclet
1905 - 1911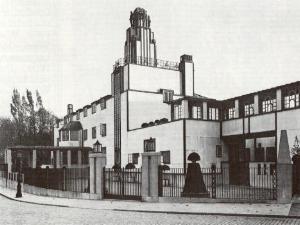 Palais Stoclet, Architect: Josef Hoffmann, executed by the Wiener Werkstaette, 1905-11
The internationally recognised peak of Hoffmann's career is the Palais Stoclet in Brussels. Its dimension, quality and architectural significance was an accomplishment that was not to be surpassed throughout his long career. Not only had materials and techniques of manufacturing become more complicated but also a change into a new direction of Hoffmann's creative work is distinguishable as of 1905, when a return to shapes of classicism occured.
All these tendencies were channelled into the building and coupled with the financial strength of Baron Stoclet. This order resulted in Europe's probably most spectacular masterpiece of complete art of its époque. When building the Palais Stoclet, the relationship between the patron and his architect was the happiest imaginable. A fact which is cleary expressed in the consequent atmosphere and quality of the building where no compromises were made, neither with the outside finish nor with the interior.
Hoffmann involved the entire Wiener Werkstätte group in the project and commissioned Klimt to decorate the dining room. The Stoclet House is one of the most significant episodes in twentieth century art and an unsurpassed example of the integration of the arts.
The frieze that Klimt designed for the dining room was executed according to his specific instructions by the artisans of the Wiener Werkstätte.
The same artists, who worked on Stoclet were also involved in the design of the Cabaret Fledermaus in Vienna. Apart from Hoffmann many other artists like Wimmer-Wisgrill, Czeschka. In 1912 they were the founders of the Austrian artist group 'Werkbund'.