Leopold Bauer
1872 - 1938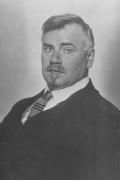 Bauer, Leopold, b. Krnov, Czech Republic (then Jägerndorf), Sept. 1, 1872, d. Vienna, Oct. 7, 1938, architect.
Initially a pupil and later an adversary of O. Wagner, succeeded O. Wagner as professor at the Academy of Fine Arts in Vienna (1913-1919).
Worked mainly in Vienna, Silesia and Moravia. Works: Villa Dr. R. in Brno, 1901; in Vienna: Villa of the architect, 1907; Austro-Hungarian Bank (now Austrian National Bank), 1911-1919; Vogelweid-Hof, 1926; Villa V. von Joly, 1928/29. - L. B., Seine Anschauung in Wort und Werk, 1931.
Foto: Karolinsky-Archive