Christiane Büssgen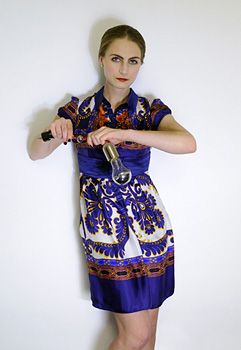 Christiane Büssgen, a young designer of German origin, is the creative director of the lighting manufacturer Woka (since 2008).
She studied Product Design at the DesignAcademy in Eindhoven and finished with a masters degree in Industrial Design in Rome at the IED. Based in Vienna since 2006, Christiane Büssgen has been working on design projects varying from cutlery design and porcelain, as well as fashion accessories.
With eclectic window installations and new lamp designs, such as the redesign for the 100 year Jubilee of the "Knize light" from Adolf Loos (original draft from 1909) as well as the "ball lights" from 2010, CB brings a fresh spirit to the tradition of WOKA.
With the introduction of LEDs, CB combines new lighting media with antique chandeliers or integrates the technology into new functional items like the lit WOdKA Cooler, a Büssgen design from 2008.
A natural connoisseur of good taste CB also loves cooking colour specic menus for everybody who shares her sense of style and quality.
Christiane Büssgen at WOKA: