Christian Ludwig Attersee
1940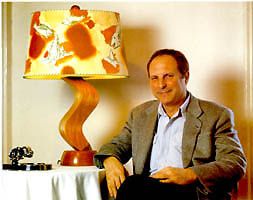 Christian Ludwig Attersee was born 1940 in Preßburg. He spent his youth in Aschach/Donau, in Linz and near the Attersee. As he was a yachtsman, he began to use the name of the lake as pseudonym "Attersee".
In 1951 he began his artistic work by writing novels and songs as well as designing stage sets. 1957 he began to study stagedesign at the University of Applied Arts in Vienna, 1959 he expanded his education with peinture, diploma 1963.
In the sixties and seventies the painter created series, for example: "Österreichführer für außerirdische Wesen", as well as "Segelsport", "Servierlust und Serviettenallerlei", "Triebstör und Schwarzbesamung", where Attersee deals with food, beauty, cosmetics and things of our daily life.
Christian Ludwig Attersee not only acts as a painter but also as musician, writer, designer, he produces films and still designs stages.
One can say, that in the last fifteen years, peinture was the most important medium for the artist. His most characteristic means of expression is the imaginative and inventive compositon of different forms. In some paintings, his colours even sprinkle from the canvas onto the frame.
Christian Ludwig Attersee participated in the Documenta 1977 and the Biennale of Venice 1984. Retrospectives of his works were shown in: Museum des 20. Jahrhunderts, Wien; Stedelijk Van Abbemuseum, Eindhoven; Museum für zeitgenössische Kunst, Belgrad; Künstlerhaus Wien; Kunstsammlung Nordrhein Westfalen, Düsseldorf; Stedelijk Museum, Amsterdam.
Since 1990 Christian Ludwig Attersee teaches at the University of Applied Arts in Vienna the class for peinture, animated film and tapisserie.
He works and lives in St. Martin (Burgenland), Vienna and on the Semmering.
Foto: Karolinsky-Archive
© Copyright Wolfgang Karolinsky - Mon, 17. Nov 2008
Christian Ludwig Attersee at WOKA: